Shortly after World War II, when brothers Al and Pete Cipriani completed their service, Cipriani Companies began as Cipriani Refrigerated Fixtures, Inc. The company literally began with a little G.I. Bill technical training and a crescent wrench. After serving in the Korean War, brother Ralph joined the team.
Built on a foundation of superior customer service, the company thrived. Through the 1960s and 1970s, the company expanded into real estate development and investment. The company is now operated by second and third generation family and, of course, the principles of customer service that made the company what it is are still very much in effect.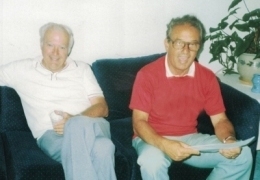 No summary of Cipriani Companies is complete without tribute to Bill German (1928-2006) who was there from the beginning as an advisor, consultant, contractor and friend. Bill joined Cipriani Companies as a partner in the early 80's. His commitment, diplomacy, extraordinairy problem solving and mentorship to the 2nd generation continues to guide the company today!